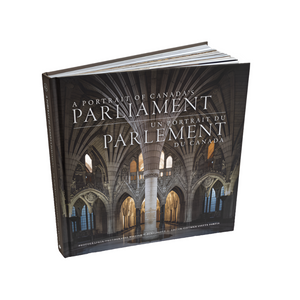 This stunning visual exploration of Canada's most recognized building is accompanied by a comprehensive study of its history.
The Centre Block, the iconic parliament building that has come to be Canada's foremost representation, was closed in 2018 and will remain closed for at least a decade for a complete renovation and restoration. 
With original photographs from noted architectural photographer William P. McElligott, historical images, and thematic articles written by established subject specialists, A portrait of Canada's parliament/Un portrait du Parlement du Canada provides a contemporary look at one of the nation's greatest symbols. 
ECW Press, 2021
Bilingual. 224 pages